If you are using vRealize Suite's solutions like vRealize Operation, vRealize Automation, or vRealize Log Insight, then vRealize Suite Lifecycle Manager(vRSLCM) comes in handy into day to day operations. This product automates the deployment, configuration, and upgrade of the vRealize Suite. If you plan to deploy any of vRealize products or even automate the Day 2 operations like certificate replacement, then vRSLCM is a go-to tool for your use case. It is also worth mentioning that some products like vRelaize Automation(vRA) use this solution as a built-in tool for the deployment process. It is recommended to deploy vRSLCM first and then deploy and other vRealize Suite products due to ease of installation and configuration orchestration. But if you already deployed any of the suite's products, you can also add them into vRealize Suite Lifecycle Manager.
In this blog post and following video tutorial, I show you how to deploy vRealize Suite Lifecycle Manager with Easy Installer and lay the foundation for the rest of vRealize Suite products deployment. The license for this product is included in any edition of the vRealize Suite licensing package.
Before starting the deployment of vRealize Lifecycle Manager, we should download the easy installer from MyVMware portal. On the download page, you have three options to choose from. Download vRSLCM from the first option if you are planning to implement vRealize Automation later on. The second download package will install only vRSLCM as a stand-alone package. The last option is for upgrading vRSLCM from previous versions. I choose the second option since I want to install vRSLCM as a stand-alone server and deploy other vRealize products afterward.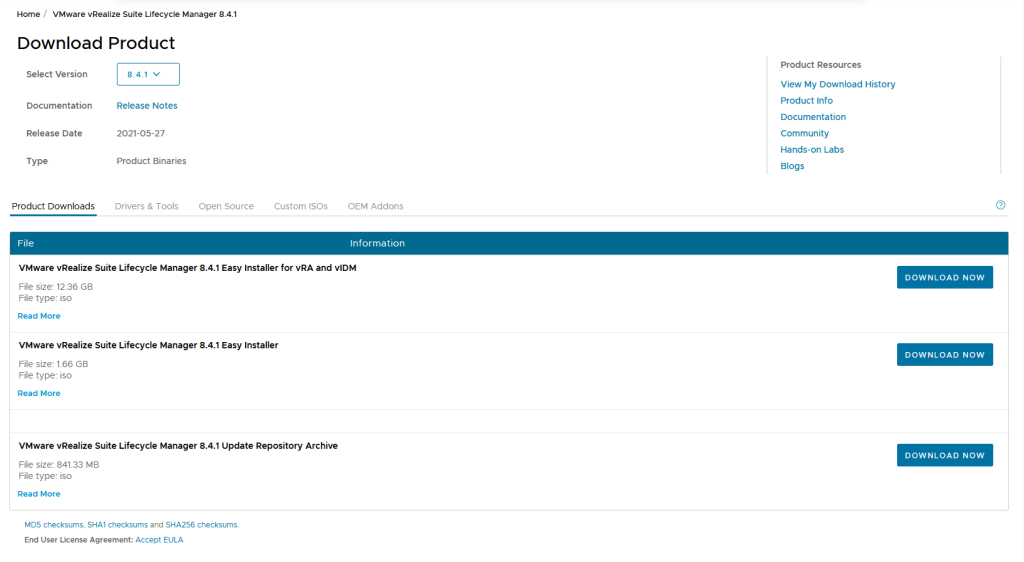 We also need to have at least vCenter Server 6.0 and ESXi 6.0 to deploy the virtual appliance, which should be any concern at the moment. Regarding hardware requirements, vRSLCM needs two vCPUs, 6GB of Memory, and 78GB of storage in case of Thick provisioning. The following vRealize Suite products are supported;
vRealize Automation
vRealize Operations Manager
vRealize Log Insight
vRealize Business for Cloud
vRealize Network Insight
VMware Identity Manager
So without any further ado, let start deploying vRealize Suite Lifecycle Manager and start this exciting journey of Cloud Management and Automation with the vRealize Suite!
In the below video, I will walk you through the process of vRealize Suite Lifecycle Manager(vRSLCM).
In Part 2 of this blog series, we will start configuring the installed vRealize Lifecycle Manager.