We have observed innovation, easy management, and supporting numerous features in every vSAN update. VMware announced vSAN 8U2, which contains new topology, features, and enhancements.
In this blog post, I will highlight the most crucial feature updates for Original Storage Architecture (OSA) and vSAN Express Storage Architecture (ESA) that come into three different categories:
Flexible Topologies – vSAN MAX Storage Cluster
Core Platform Advances – Support of vSAN File Services in ESA
Enhanced Management – ESA Prescriptive Disk Claim, Auto Policy Remediation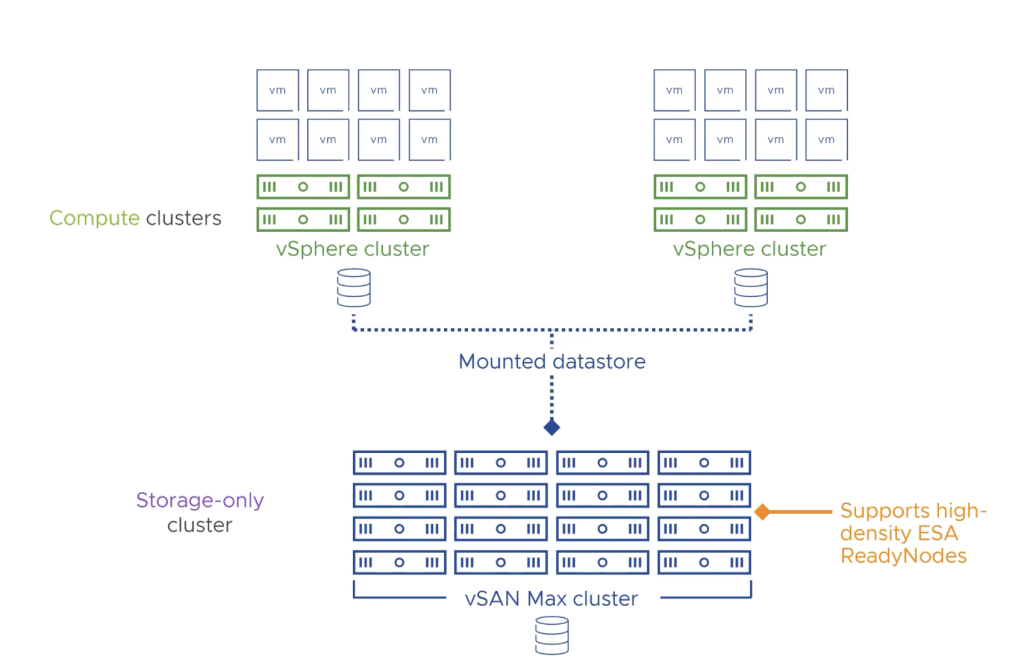 So let's start with introducing vSAN's new Disaggregated HCI offering known as vSAN MAX, which provides high performance, efficiency, and resiliency. This solution is based on vSAN ESA, and it is very easy to scale in an incremental fashion. So instead of adding compute and storage together, you can add more storage and provide multiple petabytes of capacity for a vSphere cluster. vSAN Max supports up to 360TB capacity per host, which means with a maximum of 24 nodes per cluster in vSAN MAX, you can provide 8.5-petabyte storage for vSphere clusters.
But what are the main use cases? First of all, it's ideal for customers who run tier-one databases on small vSphere clusters to minimize the cost of 3rd party licensing, and they need a large amount of capacity. Secondly, customers using Blade servers or older hosts in vSphere clusters can now use vSAN MAX as a centralized shared storage. And finally, this solution can benefit all VMware vSphere clusters as primary or additional shared storage because it's very easy to scale and consume. And importantly, because vSAN Max is based on vSAN ESA, you can take advantage of all the new capabilities introduced with ESA, like high-performance snapshots, customizable storage policies, and space efficiency.
Having said that, vSAN Max can be implemented in a single site or stretched cluster.
If I want to compare the traditional HCI to disaggregated HCI, I can point out vSAN HCI aggregates resources. Meaning, you have compute and storage in the vSAN cluster. We could assign the compute and storage clusters to another vSAN cluster in disaggregated HCI. And now, with vSAN MAX, you can assign a storage-only cluster to compute only cluster or to compute and storage clusters.
It's interesting to note if you want to connect your cluster to vSAN MAX. Your cluster can be a vSphere cluster, vSAN ESA cluster, vSAN ESA stretched, or even vSAN 2-node. And even these clusters can be managed with a different vCenter server than the one on which vSAN MAX is managed. On the other hand, you can deploy the vSAN MAX as a single site or stretched cluster. And the communication for the storage traffic will be handled by the native vSAN communication stack.
And now, let's move on to the next pillar and go through the Core Platform Advances. With vSAN ESA 8U2, you can now run vSAN File Services and benefit from the high performance and space efficiency that ESA brings. NFS and SMB protocols are supported for traditional workloads, and it also supports Cloud Native clients.
Other than this, VMware announced great news for customers who want to run ESA with VMware Cloud Foundation (VCF). In VCF 5.1, vSAN 8U2 is included in the Bill of Material (BOM), and you can also run ESA but only on a single cluster for now. vSAN OSA and ESA can be mixed in different clusters. Besides, you can benefit from vSAN MAX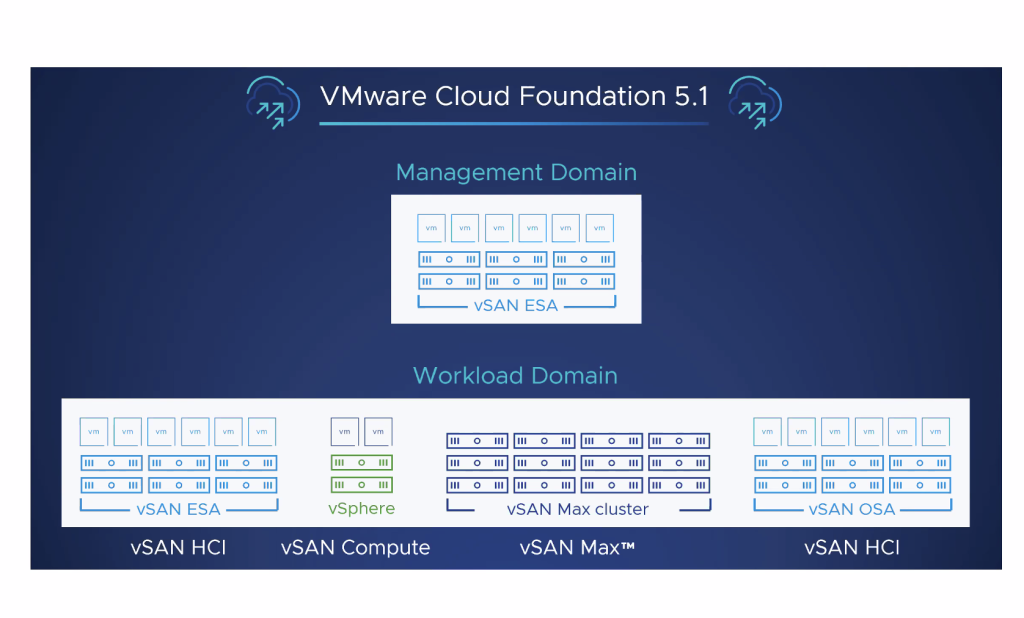 In vSAN 8U1, VMware provides higher performance by offering an alternative write path that is dynamically utilized by vSAN for guest VM writes that use larger I/O sizes. And now VMware introduced dynamic I/O bank arrangements that allow us to, on a per object bases, expand the number of I/O banks that are being used for the purpose of preparation before writing the data in a full stipe to the capacity leg. This leads to a higher IOPS, higher throughput, and lower latency. This improvement can also bring up to 200% higher write throughput and reduce 70% latency in vSAN MAX. This could be one of the main reasons customers embrace vSAN MAX as a shared storage solution in their environment.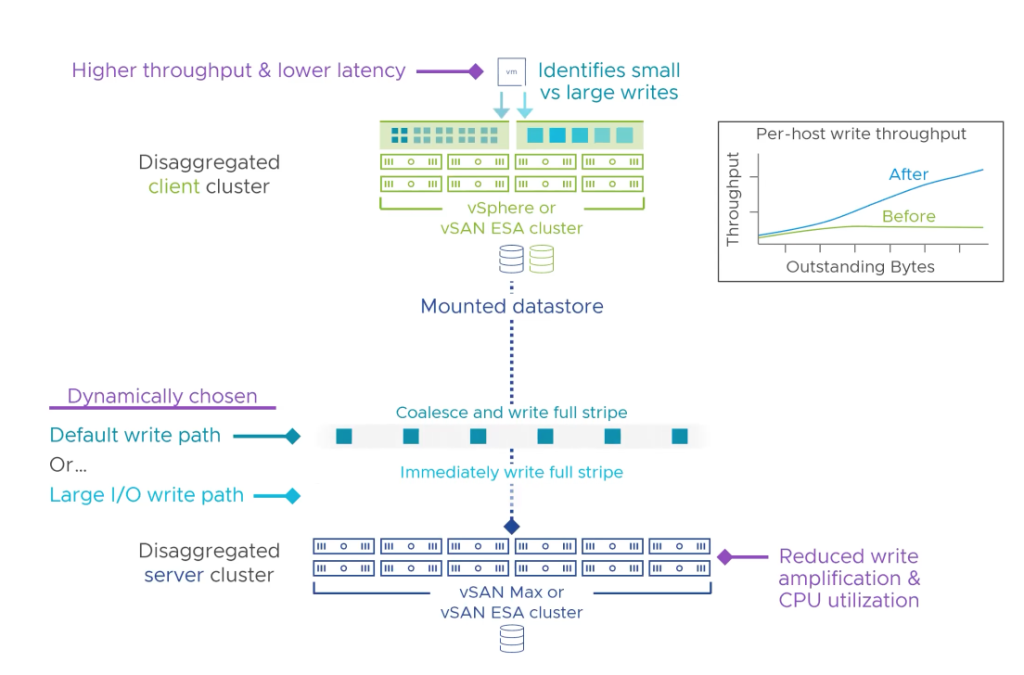 With vSAN 8U2 in ESA, you can now run 500 VMs per host, which means you can run more virtual machines with fewer hosts.
ESA is not just an answer for large customers with a huge amount of virtual machines and petabytes of data, but it can also work for small environments like Edge. As a result, VMware recently announced a new ESA ReadyNode profile ideal for small data centers and edge environments. And this profile is applicable for vSAN 8U1 and later. In ESA-AF-0 the network bandwidth has been mentioned as 10 GbE, but it's highly recommended to go with 25 GbE.
And now let's go through the last pillar, which is Enhanced Management which has been made on vSAN 8U2. Auto-policy management was introduced on vSAN 8U1, and it could automatically create the storage policy based on the size of the cluster, and the type of the cluster, whether is standard or stretched. But if any changes would happen despite skyline Health monitoring those changes and giving you recommendations, you should have manually changed the storage policy. But now VMware has improved that, so besides, the recommendation you get and the control you have to decide when is the right time to change it. Now there is a toggle button to remediate the storage policy to be aligned with the new change.
One of the very practical enhancements in vSAN ESA is the prescriptive disk claiming model. Before vSAN 8U2, we had two ways to claim the harddisks in ESA. Either manually or automatically choose any storage device that was available. But for different reasons, such as having VxRAIL or VCF, you may need to have the possibility only to choose some of the disks. With vSAN 8U2, you have the option to define disk claim criteria for the hosts in the cluster, and vSAN will provide consistency for the current hosts in the cluster or the new hosts you will add later on. But note this feature is initially only available with CLI and API.
The other enhancement is about supporting Key Expiration which is in regards to the use Data-at-Rest Encryption in vSAN OSA and ESA. Within the KMP protocol, there is an attribute called Key-Encryption-Key(KEK). When KEK got expired, we did not have any insight into this issue, and when this issue happened, we could almost do nothing. But now, with vSAN 8 U2 within Skyline Health, you get a notification in the threshold of 30 days and 10 days before the key get expires.
As we are talking about enhancements around Skyline, let me emphasize another beneficial feature that has been improved. If you had a warning or alert, Skyline could give you a recommendation on what the remediations are. With vSAN 8U2, Skyline Health finds the recommendation based on the vSAN version you are running. Some generic recommendations are still available, and now you have an Alternate bottom to see more prescriptive options to fix the identified issue.
One of the most important points in day two operations is to detect and identify the root cause of performance issues. In vSAN 8U2, not only can you find the top contributors at a specific time, but also you can customize a time frame to find the performance hot spots.
Besides, I/O trip analyzer feature is now available for both 2-nodes and vSAN stretched clusters to identify the bottleneck.
And last but not least, with vSAN 8U2 now, you can tag the vSAN witness traffic within vCenter UI, and you do not need to jump out to CLI or powercli to tag the vSAN witness, which to my point of view, it's a great enhancement.
With all these new features, enhancements,s and capabilities supported, I believe not only is VMware vSAN a solution that can fulfill today's demand of a wide range of customers but also it is a key for future-ready infrastructure. You can also read the other blog post about what's new on vSphere 8U2.