On August 30, 2022, VMware announced vSAN 8 with a different architecture called vSAN Express Storage Architecture (ESA). You may have already heard about the significant performance improvement, increased network throughput, and enhanced scalability that ESA offers. However, VMware has continued to innovate. With vSAN 8 U1, additional features and capabilities have been added to both the original vSAN architecture (OSA) and ESA, providing even greater flexibility and efficiency. In this article, we will focus on the new features of vSAN 8 Update 1.
The new capabilities in vSAN 8U1 are categorized into four pillars: Disaggregation, Performance Enhancement, Ease of Use, and Cloud-Native Storage.
Disaggregation
Disaggregated Storage involves the separation of compute and storage, and VMware's solution for disaggregation is HCI mesh. With the announcement of vSAN HCI Mesh in vSAN 7U1, users can now remotely attach a vSAN Datastore to a vSAN cluster and utilize storage resources as if it were a local Datastore. This means that one vSAN cluster can function as the server cluster, and the client cluster can consume its vSAN datastore as a client cluster. However, this functionality was not supported with the vSAN Stretched cluster in (OSA), and vSAN 8 (ESA) did not support HCI mesh. With the release of vSAN 8U1, this technology is now supported in ESA and can be used in stretched vSAN clusters in OSA. This means that for standard clusters, the server cluster can provide storage resources to client clusters.
Client cluster can either be vSAN standard cluster using ESA or vSphere Compute cluster running vSphere 8 U1. And Server cluster could be vSAN standard cluster using ESA or vSAN standard cluster using OSA (but not both at the same time)
Disaggregation using vSAN ESA
As previously mentioned, vSAN HCI Mesh is also supported by stretched vSAN clusters (OSA), which means that if you have a stretched cluster functioning as an HCI server cluster, the datastore can be attached to a client-stretched cluster. What's great about this solution is that it has the intelligence to optimize the data path based on site awareness.
This means that if the client cluster is located in the same data center as the server cluster, the client cluster will utilize the storage resources of the same site, and data traffic won't need to traverse through the Inter-Site Link (ISL). What's great about this solution is that the client cluster doesn't necessarily need to be stretched, and it can simply be a standard cluster that consumes the storage resources of the vSAN stretched cluster.
Disaggregation vSAN stretched clusters with OSA
And finally, If you manage multiple vCenters, vSAN 8 U1 supports disaggregation to operate across environments using multiple vCenter Servers when using (OSA). So, you can attach the vSAN datastore of a cluster in one vCenter to a client cluster in another vCenter server.
Performance enhancement
Regarding performance enhancement, vSAN 8U1 ESA significantly improves the form of an adaptive write path. This new feature offers an alternative write path dynamically utilized by vSAN for guest VM writes that use larger I/O sizes. Consequently, it has the potential to decrease write amplification and reduce CPU utilization. But how does it work? Well, vSAN monitors incoming I/Os and identifies large writes under different conditions: firstly, if the incoming write I/O does not fit into the allocated section of memory known as a stripe buffer, and secondly if there is sufficient capacity in the buffer to hold the write. In such cases, vSAN bypasses the default write path introduced in vSAN 8 and directly transfers the data in a full stripe to the capacity leg.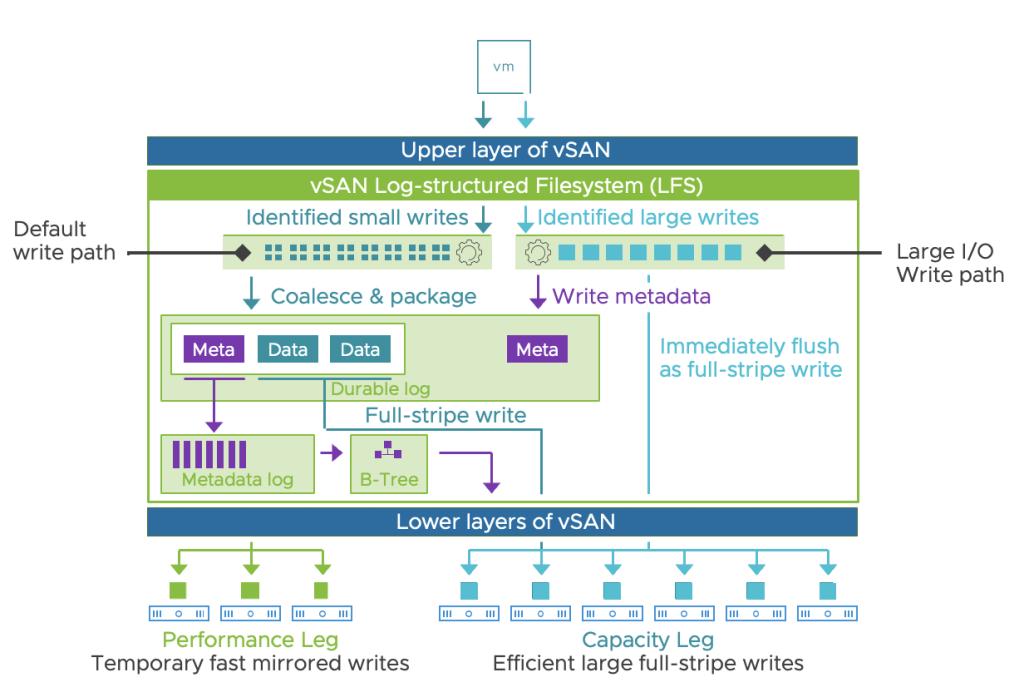 vSAN ESA Adaptive Write Path
The other enhancement around the performance improvement is the increased parallelism capability for layer processing write operation, which allows writes to be committed more quickly. This enhancement is particularly beneficial for workloads that use one or two .vmdk, but a higher throughput and lower latency are expected. With this performance improvement feature, IOPS and throughput can be increased by up to 25%.
One limitation of vSAN 8 (ESA) was the absence of support for the durability of changed data during maintenance mode scenarios. This ensures that the most recent data written remain resilient under degraded conditions. However, in vSAN 8U1 (ESA), VMware has introduced resiliency components only for RAID 5/6. These components maintain the latest data redundancy in the event of an unplanned outage or while a host is in maintenance mode.
Ease of use
vSAN administrators could always specify the resilience and space efficiency levels for virtual machines(VMs) powered by vSAN through storage policies. The Express Storage Architecture in vSAN8 U1 supports a new, optional cluster-specific default storage policy. Based on the type and size of the cluster will determine the ideal level of failure to tolerate and the data placement scheme. And then, it will create and assign a specific default storage policy to that cluster. Skyline Health in vSAN will monitor the default storage policy and alert administrators to adjust it to the optimal setting for the cluster size. Skyline Health will continually monitor and provide recommendations to maintain optimal settings as the cluster size changes. This guided approach will help ESA clusters achieve the most resilient and space-efficient configuration.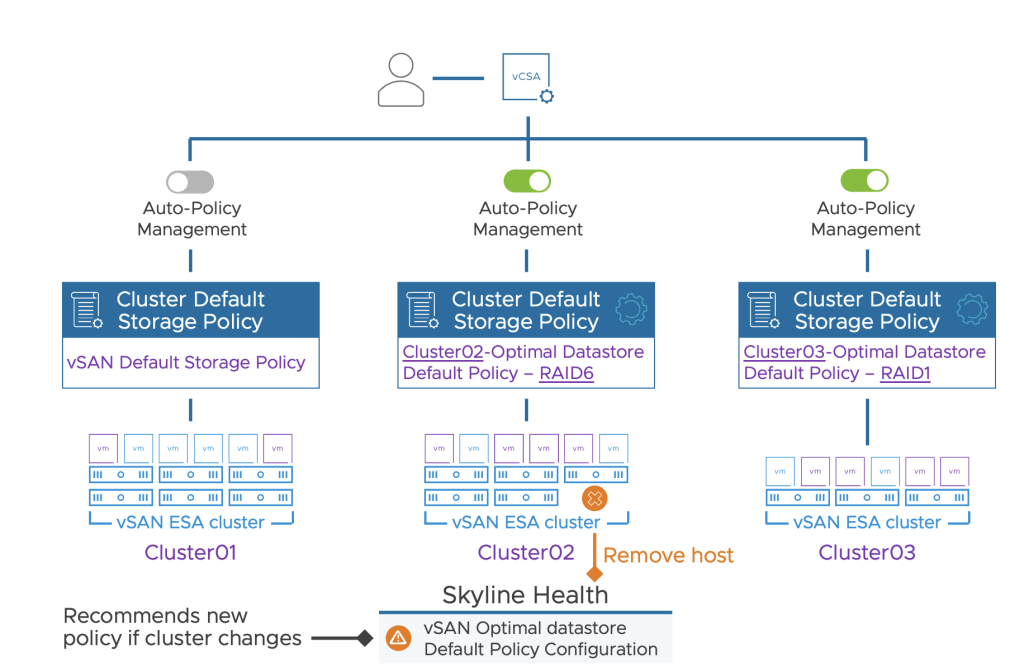 Auto-Policy Management in vSAN ESA
Managing the health and functionality of an environment can be a hassle for administrators. With vSAN 8U1, a new cluster health status and troubleshooting dashboard was introduced that aims to answer essential questions such as whether the cluster and its workloads are in a healthy state, the severity of any issues, and if they require attention. For every vSAN cluster, Skyline provides an understandable scorecard that shows the overall condition of the cluster and helps the administrators to identify the problems easier.
The other enhancement for troubleshooting is regarding the vSAN performance that provides "real-time" monitoring of performance metrics. This feature collects and displays performance metrics at a sampling interval of only 30 seconds, a significant improvement over the previous implementation, which used a 5-minute sampling rate. This improvement makes it easier to monitor and troubleshoot performance issues in the system.
Cloud Native Storage
vSAN provides a rich set of cloud-native storage capabilities. Now with ESA, vSAN 8 U1 supports cloud-native storage, enabling customers to utilize the full range of capabilities ESA offers, such as enhanced performance and increased efficiency, for their cloud-native workloads.
Cloud Native Storage support for vSAN ESA
Cloud Native Storage on vSAN and vSphere aims to empower developers, and vSAN 8 U1 enhances clusters that use vSAN Direct Configuration, a custom cluster configuration designed specifically for cloud-native workloads. And developers can programmatically provision persistent volumes as "thick" by defining it in the storage class.
You can also read about what's new in vSphere 8 Update 1 in our other blog post!