In September 2022, an announcement was made about the release of vSphere 8 with new features and capabilities. Building on this momentum, the subsequent release of vSphere 8U1 brings new enhancements and improvements into three different categories of operating efficiency, elevated security, and supercharged workloads. So, by these pillars, customers can operate their infrastructure more efficiently, securely, and agile. So let's start with the new enhancements in vSphere 8U1.
Operating efficiency
In vSphere 8, vSphere Configuration Profiles were introduced as a tech preview with some limitations of not supporting vSphere Distributed Switch and NSX. If you have not checked this functionality, read my blog post on what's new in vSphere 8, which explains this functionality in more detail. But In vSphere 8U1, vSphere Configuration Profile is now fully supported and allows administrators to apply the homogenous configuration at the cluster level.
So you can set the desired configuration at the cluster level in JSON format and check the compliance of the hosts in the cluster; if they are not compliant, you can remediate the hosts to become compliant. But one point to remember, If the cluster has a Host profile attached to it, you will get a warning to remove the Host profile when you want to move to vSphere Configuration Profile. When you transition, you can no longer attach host profiles to the hosts within the cluster. vSphere Configuration Profiles now supports vDS configuration, and it can be activated when you create a new cluster, but environments with NSX still can't use this technology.
vSphere Configuration Profiles
In vSphere 8, an improvement was made to allow standalone hosts to be upgraded through the vSphere API when managed by vCenter. With the release of vSphere 8U1, full Lifecycle Manager support is now accessible for standalone ESXi hosts to create a desired image. Having said that, you can also define custom image depots which is very beneficial for the hosts in the edge locations and avoid remediation issues because of the poor or high-latency connections.
Previously in vSphere, if you wanted to run NVIDIA vGPU workloads on an ESXi host, they had to share the same vGPU profile type and GPU memory size. From vSphere 8U1, you can now assign workloads with different vGPU profile types to the same physical GPU, which allows for better utilization of GPU resources. It's important to note that while you can use different vGPU profiles, the memory sizes must be the same.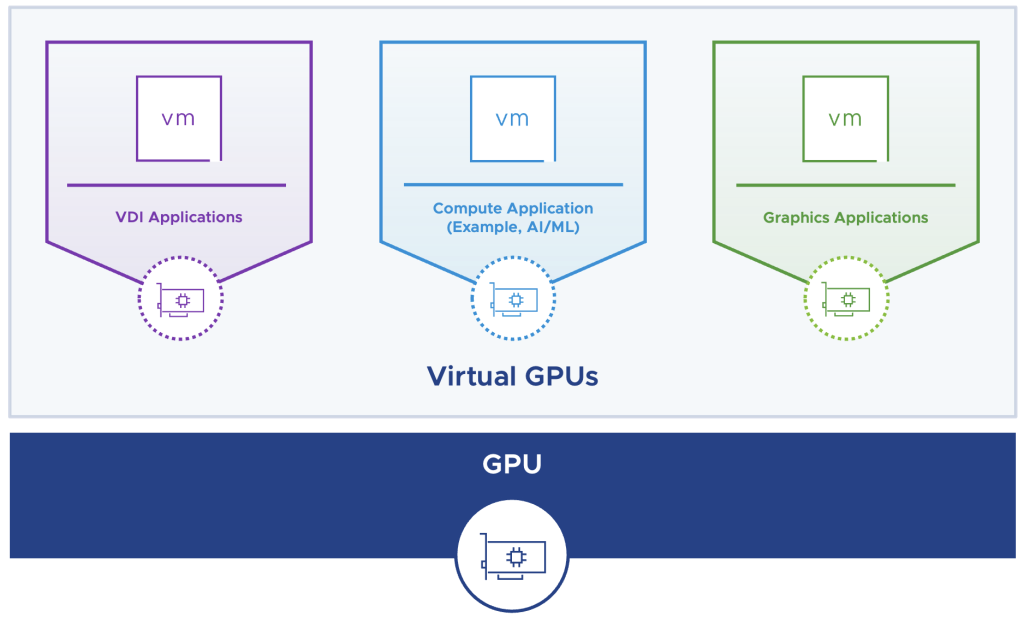 GPU Workload Flexibility
Skyline Health Diagnostic help you to run health checks and identify any failures or known issues and resolve them. In addition, it understands the VMware security Advisories and can suggest related solutions. In vSphere 8U1, VMware Skyline Health Diagnostics deployment and management is much simpler and can be done through a guided workflow in vSphere Client.
One enhancement in vSphere 8 was a new metric that captures the power consumption of a host. With vSphere 8U1, we can now check the individual power consumption of VMs, which allows the customers to understand the energy efficiency of their workloads.
Enhanced vSphere Green Metrics
Security
Sometimes you must trade off performance when you want to build a secure environment. But VMware has always tried to build a secure infrastructure with less trade-off of performance. As you know, VMware introduced the quick boot option in 6.7, which helped the customer have a faster reboot for upgrades. With vSphere 8U1, with a quick boot, the TPM 2.0 is supported, and if it's enabled, hosts go through a secure boot process to detect malware and other misconfiguration.
Quick Boot for Secure Systems
Many customers want to use fault tolerance (FT) for their virtual machines to deliver continuous protection while utilizing virtual TPMs.In vSphere 8U1, the other enhancement for security is the support of (FT) with virtual TPMs.
One of the other great enhancements in vSphere 8U1 is it allows admins to bind NFS traffic to a specific vmkernel network interface. Because the isolation of different network types can help troubleshoot performance issues, it's more secure.
vSphere NFS Datastore VMkernel Binding
One of the main requests from customers is Identity management and multifactor authentication because it can make their environment more secure. In vSphere, 8U1 VMware now supports cloud identity providers. The first one is Okta; you do not need to plug Okta into ADFS or use Okta LDAP. Supporting other cloud identity providers is on the roadmap for future releases.
Supercharge Workloads
Earlier versions of vSphere required virtual machines to be powered off when adding or removing VM DirectPath IO devices. With vSphere 8 Update 1 release, it is now possible to use vSphere APIs to hot-add and hot-remove NVMe devices. But bear in mind that your hardware must support "PCIe Native Surprise Hot Plug."
One of the points VMware has focused on is supporting AI use cases at the highest performance. Now, with vSphere 8U1, ​it Supports NVIDIA's NVSwitch technology that allows up to 8 GPUs to communicate at 25 GB per second in each direction using NVlink, which is the backend protocol for NVSwitches. In previous versions, AI performance was affected by the speed of the buses inside the servers.
NVIDIA NVSwitch
As you might guess, together with VMware vSphere 8 Update 1, there comes a newer version of vSAN! In our other blog post, you can read about what's new in vSAN 8 Update 1.